Platform
Immune CellPure Expander® Platform
High Safety

---

High Efficacy

---

High Scalability

---

High Versatility
Customizable, Protein-based Cell Programing Platform
Encompassing technologies and capabilities across the full continuum of NK and
T cell therapy process development & manufacturing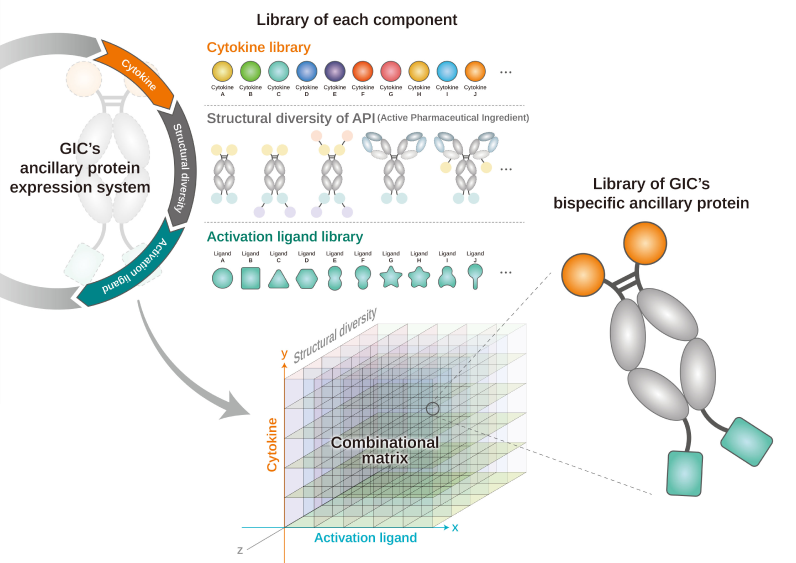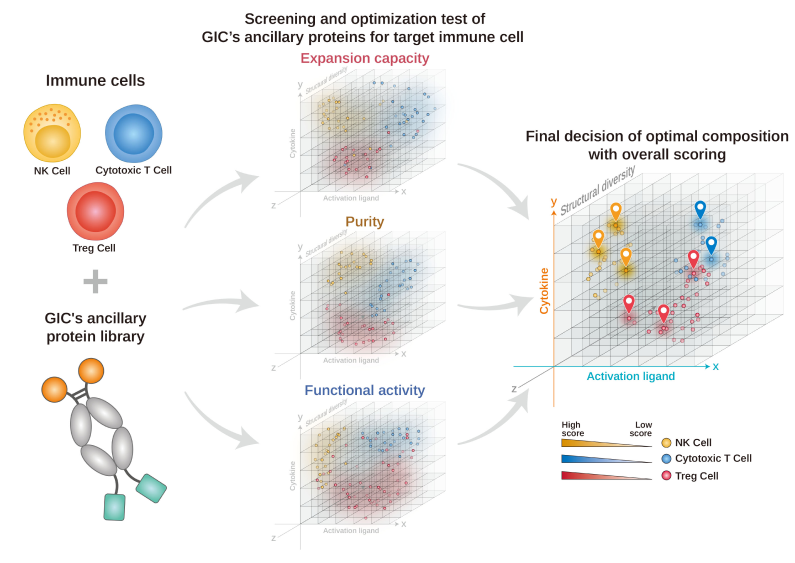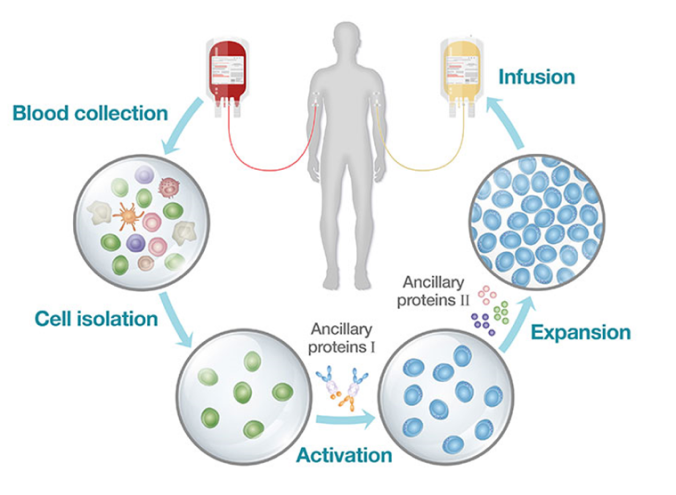 Ancillary protein library for
immune cell
Database of candidate screening
and feasibility test
Optimization of immune
cell-specific manufacturing
Technology
T.O.P. NK®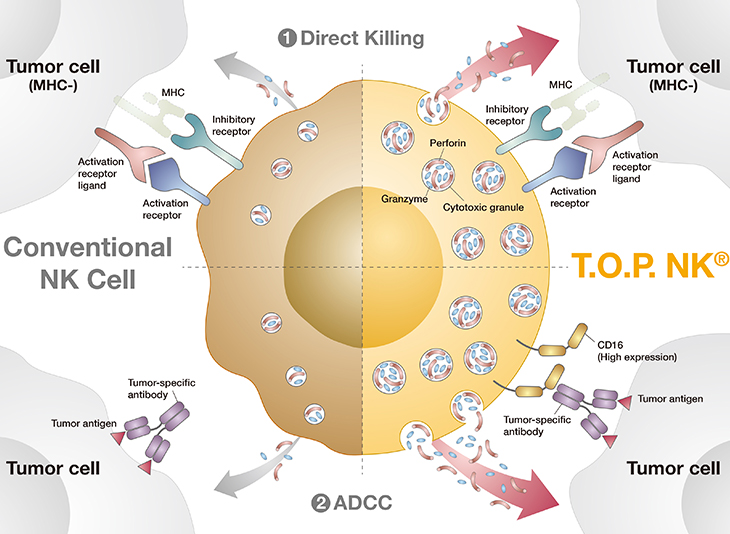 Key features of T.O.P. NK®
Tumor-targeting Optimally Primed (T.O.P.) NK Cell.
T.O.P. NK cells are robustly activated and amplified using ONLY the ancillary proteins in the NKPURE Expander® platform.
T.O.P. NK cells are highly pure (>99%) and safe to use as NO feeder cells are used during the cultivation process.
Even with NO genetic modification or viral transduction, CD16 (FcγRIII) expression and cytotoxic granule contents are HIGHLY ELEVATED in T.O.P NK cells.
High CD16 expression enables T.O.P. NK cells to target and kill tumor cells via antibody-dependent cell cytotoxicity (ADCC).
Robust cytotoxic granule contents elevate T.O.P. NK cells' killing competency.
Nano NK®
Key features of Nano NK®
Nanoparticle-armed (Nano) NK Cells are NK cells carrying pH-sensitive nanoparticles loaded with a chemotherapeutic drug.
Tumor-specific homing and targeting by the NK cells grants major advantages over conventional chemotherapy, which causes systemic adverse effect to the recipients.
Nano NK cells carry out tumor-targeted drug delivery, which significantly reduce the toxicity of released chemotherapeutic agent.
Upon engaging a tumor cell, Nano NK cell releases its cytotoxic granules, causing the immunological synapse between engaging NK cell and target tumor cell to turn acidic.
Acidification of the surroundings prompts nanoparticle disassembly and release of chemotherapeutic drug directly onto the tumor cell, resulting in tumor cell killing.
This technology could also be adapted to reinforce cytotoxic T lymphocytes with chemo-loaded nanoparticles.
Drone Treg®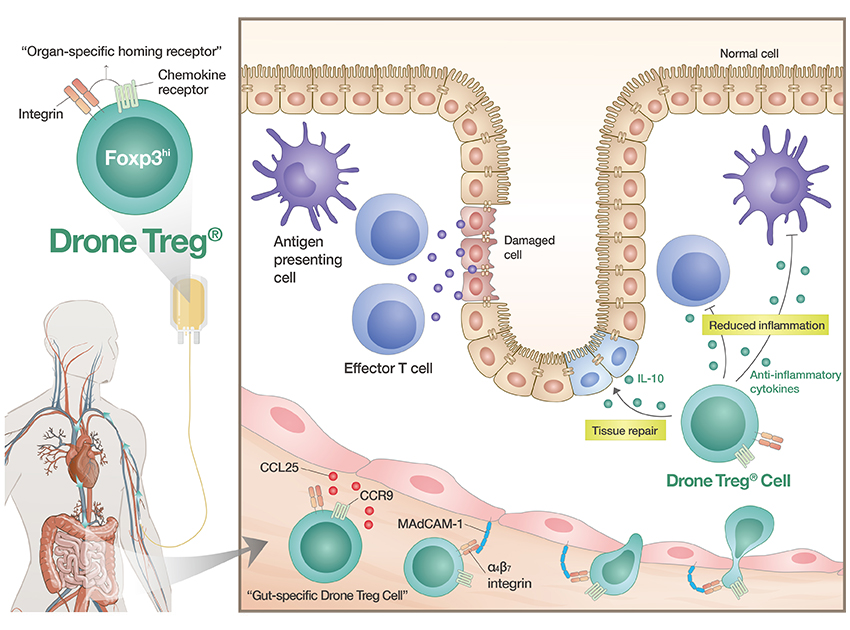 Key features of Drone Treg®
Regulatory T cells play important role in maintaining tolerance and immune cell homeostasis.
Tregs are crucial in controlling chronic inflammatory diseases as they can suppress inflammatory immune responses through secretion of inhibitory cytokines.
Target organ-specific regulatory T cell therapy platform which induces controlled expression of organ-specific homing receptors from the Foxp3hi regulatory T cell isolated from patient's blood.
Drone Treg® expressing gut-specific homing markers, CCR9 and α4β7 integrin, induce migration to lesion of patient's gut after infusion.
In intestinal autoimmune diseases, APCs and effector T cells elicit and propagate aberrant inflammatory responses towards innocuous antigens, such as food particles or commensal microbiomes, which leads to tissues damage in the gut.
Drone Treg® in the gut can effectively control the inflammatory APCs and effector T cells by releasing anti-inflammatory cytokines and induce repair of damaged tissues.